Welcome to our Annual Summer Camp & Program Guide! Each year, we round up some of the best summer camp and program offerings here in the Greenwich-Westport area as well as some camps within other areas of Fairfield County and Western Connecticut.
Be sure to check back often, as we will be adding camps to the Guide every week in the coming weeks as we receive information.
Remember to let them know that you heard about the program in Macaroni Kid!
Would you like to add your camp or summer program to our 2023 Summer Camp Guide and Directory? Email catherines@macaronikid.com
Goldfish Swim School in Stamford and Norwalk
Now is the perfect time to jump into a Jump Start Clinic! Did you know that with our Jump Start Clinics your child can experience one month of progress in just one week? Our Jump Start Clinics are a quick and easy way to get your kids swim ready or to advance to the next level, while learning how to be safer in and around the water.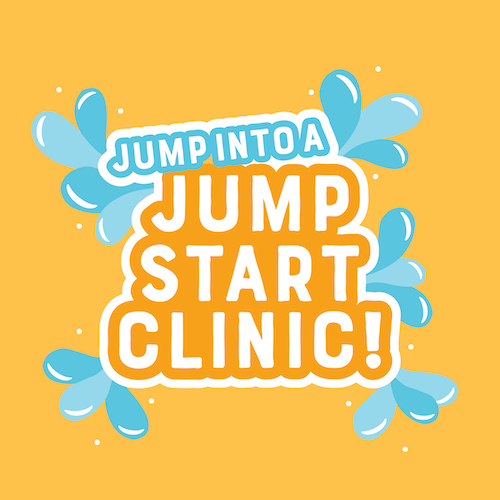 Jump Start Clinics: Swimming Classes for Kids to Quickly Teach Water Fundamentals
Goldfish Swim School's unique Jump Start Clinics are swim classes specially designed for families looking to get their kids water-ready in a hurry. They're a great way to introduce kids to the fundamentals of water safety, take full advantage of school vacations, get peace-of-mind before a water-centric vacation or even start the journey to an Olympic gold medal.
Swim Camp Can Quickly Improve Your Child's Technique
Jump Start Clinics include four or five consecutive days of 30-minute swim lessons that focus on everything from teaching the fundamentals of water safety to fine-tuning stroke technique. These clinics are so effective, we guarantee you'll see significant improvement in your child's swimming skills in just four or five short days!
Jump Start Clinics are being held in Stamford and Norwalk this June and July and other select times during the year. Fees are paid weekly and may differ based on location. Ask about our sibling discounts!
To find out more, give us a call at (475) 283-9823 for our Stamford location and (203) 590-9152 for our Norwalk location!

Camp Stepping Stones will certainly heat up your summer with awesome adventures and red-hot fun! Our weekly STEAM-filled camp themes include immersive learning experiences around topics like dinosaur investigations, musical explorations, comic book creation, puppetry and more!
Dates: Sessions run from June 19 - August 11 (limited spaces available!)
Ages: 5-10


Link to learn more & register: https://www.steppingstonesmuseum.org/every-day-fun/summer-vacation-camps
Contact us for more info!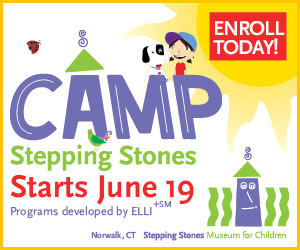 Buck's Rock Camp is a freedom-of-choice creative and performing arts camp nestled in a stunning pastoral setting in New Milford for teenagers ages 10 to 17. Every summer at Buck's Rock is completely different. The campers who attend each year make the summer their own adventure, and the camp constantly evolves and changes to meet the needs of that year's campers. Over 30 world-class programs await young artists every day, including everything from glassblowing to dance to painting to sketch comedy to radio to weaving to gardening and so much more! Buck's Rock counselors are committed and professional artists and teachers, and the camp maintains a camper-to-counselor ratio of 2:1 throughout the summer.
Dates: Sessions run from June 29th through August 20th
Ages: Choose from a 2-week session (for 10 year-olds) to 4, 6 and 8-week sessions for ages 11-17
A NEW tiered tuition system based upon household size and gross combined annual income
Buck's Rock will be hosting an Open House on Saturday, March 19th from 1-3PM. This is a great opportunity to tour the campus and see for yourself what makes Buck's Rock Camp so special to so many! RSVP for the tour.
Camp Sloane YMCA, Lakeville, CT
Camp Sloane YMCA is everything kids are looking for in a summer camp. First is our beautiful camp setting with views of the Berkshires and beyond - kids love being 'unplugged' and having the experience of being surrounded by this level of nature. Then there's our amazing choice of activities - everything from sailing, to horseback riding, to climbing and dance lessons. There is so much for our campers to choose from and their days will be filled with fun activities and great new friends, while their nights will be filled with fireside stories, lightning bugs and s'mores. Sleepaway camp should always be this good and our counselors, who come from all over the world, are excited to welcome your child to Camp Sloane this summer!
Dates: June 25 - August 19 (one and two-week session options available)
Ages: Rising 4th Graders - 12th Graders (Day Camp Option for K-6th)
Financial Assistance Available
Rising Starr Horse Rescue, Wilton
Our Summer Riding Program is for beginners and young riders. A typical day of fun and riding includes: grooming, 1-1.5 hour riding instruction, natural horsemanship, feeding and care, first aid, barn care, tacking up, equine yoga, hiking, responsibility of horse ownership, mounted fun time, trail ride in addition to lessons (always with instructors), crafts, games (mounted and unmounted), classroom time, clinics with a vet and blacksmith, loading trailer and riding demonstrations, team building. At the end of each week we have a horse show for family and friends where everyone leaves with a feeling of accomplishment. This is a great opportunity for the children to show friends and family what they have learned. Summer camp for ages 6-12 will run in groups of only 5 campers. Two riding instructors are in the ring with all beginner groups.
Dates: Runs weekly June 14 - August 27
Ages 6-12 plus a separate 3-hour program for 5-year-olds; Independent Summer Riding program for ages 12+
No experience necessary
List your business here and reach thousands of local parents! Email catherines@macaronikid.com for Summer Camp Guide pricing information.
Macaroni KID Westport-Greenwich is a free weekly newsletter and website focused on fun family events and information in our local area specifically: Westport, Greenwich, Stamford, Cos Cob, Darien, Norwalk, South Norwalk, Weston, New Canaan and Wilton, CT. We gather together all kinds of local family events and activities each week, and add useful information about classes, family-focused businesses, event and product reviews, recipes, crafts, school and camp guides and more.